Winners Of The Worldskills Championship
In Krasnodar on August 10, 2018, the Young Professionals of the Open Corporate Professional Excellence Championship of Rosseti PJSC were determined and awarded according to the WorldSkills methodology.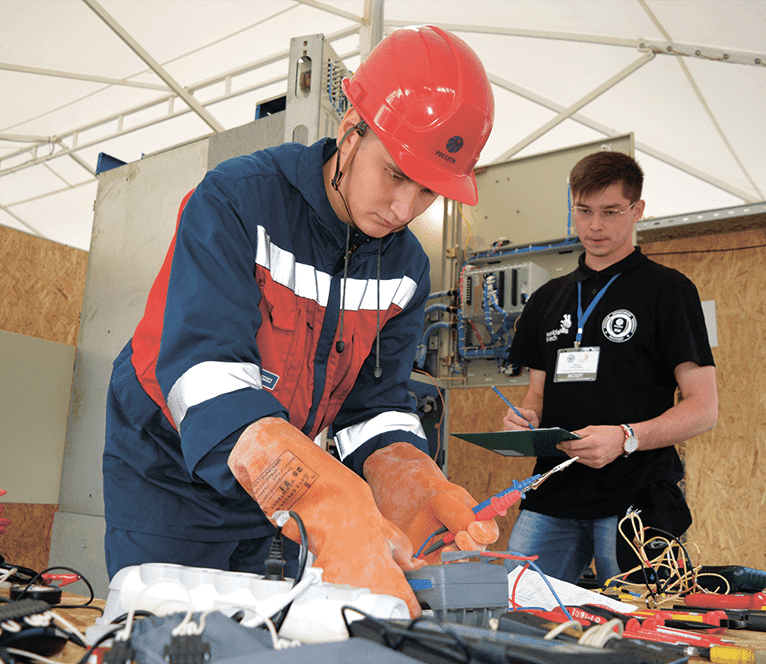 FIRSTHAND EXPERIENCE

MOTION OF OUR CHAMPIONSHIP "RELIABLE PEOPLE WITH RELIABLE NETWORKS," AND THE PARTICIPANTS OF THE COMPETITION HAVE COMPLETELY JUSTIFIED THIS MOTION, SHOWING THEIR SKILLS. HERE THERE ARE WINNERS, AND NO LOSERS. EACH PARTICIPANT HAS ONCE AGAIN PROVED HIS HIGH PROFESSIONAL SKILLS AND ABILITIES AND TOOK OVER THE EXPERIENCE OF COLLEAGUES FROM OTHER REGIONS OF RUSSIA.

SERGEY PETROV

HEAD OF TECHNICAL SOLUTIONS OF PJSC ROSSETI, WORLDSKILLS CERTIFIED EXPERT
For four days, the teams of power engineers of Kubanenergo PJSC, Tyumenenergo JSC, Udmurtenergoneft LLC, and FGC UES PJSC participated in competitions at the training area of the Energy Advanced Training Institute of Kubanenergo PJSC.
Deputy Head of Department — Head of Technical Solutions of PJSC Rosseti, WorldSkills Certified Expert, Sergey Petrov, Deputy General Director for Technical Issues — Chief Engineer of Kubanenergo PJSC, Igor Shishigin, Rector of Energy Institute, Evgeny Rud', and representatives of partner companies took part in the Grand closing ceremony.
The winners were awarded medals, diplomas, valuable prizes and gifts from the partner companies of the Championship. The best experts, organizers, volunteers, representatives of technical support, and temporary press center were rewarded for their services.
The winners of the Championship in Krasnodar in each of the professional competencies now have to defend the honor of their companies at the All-Russian competitions, which will be held in Yekaterinburg in November of this year.
OUR WINNERS:
OPERATION OF CABLE ELECTRICAL TRANSMISSION LINES
MAINTENANCE AND REPAIR OF RELAY PROTECTION AND AUTOMATION EQUIPMENT
SMART ELECTRICITY METERING SYSTEM